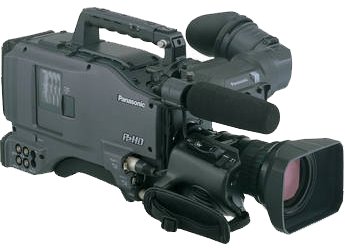 HD Panasonic AG-HPX-500 P2 HDC camera. (6 Units Available).
HPX-500 Camera
Studio Lens
AB Gold Mount
Power supply
Viewfinder
Lens
Monitor
Focus controller
Zoom controller
Specs
The Panasonic AG-HPX500 is an affordable 2/3" CCD high definition camcorder designed for use with the P2 memory-based recording system. Featuring a 2/3 inch lens mount that accepts interchangeable lenses, HD/SD multi-format compatibility with 50 Hz/60 Hz selectability, and a variable frame rate function that allows cine-like picture quality, this new camera-recorder has everything professionals need to create high-quality video content.
Equipped with four P2 card slots, the AG-HPX500 series allows extended HD recording time and delivers the high reliability, quick recording starts and IT benefits that distinguish P2 and revolutionize the recording and editing workflow. The AG-HPX500 series is an exceptional cost-efficient performer for applications that demand full-fledged HD production quality and the advantages of fast IT-based workflow.
Unlike similar priced camcorders, the AG-HPX500 can shoot a variety of standard definition and high definition resolutions, including 720p, 1080i and 1080p. All footage is recorded to the industry-standard DVCPRO, DVCPRO50, DVCPRO HD formats, which can be used in almost every professional editing suite. Features such as variable frame rates, 60p, chromatic aberration compensation (CAC), cine-like gamma, and many others provide limitless possibilities for dramatic, news and sports productions.