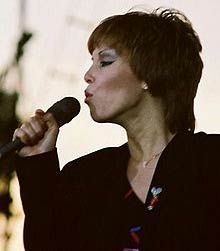 Pat Benatar
Patricia Mae Andrzejewski (born January 10, 1953), known professionally as Pat Benatar, is an American singer-songwriter and four-time Grammy Award winner. She is a mezzo-soprano. She has had considerable commercial success, particularly in the United States and Canada. During the 1980s, Benatar had two RIAA-certified Multi-Platinum albums, five RIAA-certified Platinum albums, three RIAA-certified Gold albums, 17 Billboard chartings and 15 of them being Top 40 singles, including the Top 10 hits, "Hit Me with Your Best Shot", "Love Is a Battlefield", "We Belong" and "Invincible" Other popular singles include "Heartbreaker", "Treat Me Right", "Fire and Ice", "Promises in the Dark", "Shadows of the Night", and "All Fired Up". Benatar was one of the most heavily played artists in the early days of MTV. She was the first female artist to play on MTV, performing "You Better Run".
Joan Jett (born Joan Marie Larkin; September 22, 1958) is an American rock guitarist, singer, songwriter, producer and occasional actress, best known for her work with Joan Jett & the Blackhearts, preceded by success with the Runaways, including their hit song "Cherry Bomb". The Blackhearts' record "I Love Rock 'n' Roll", was No. 1 on the Billboard Hot 100 from March 20 to May 1, 1982.Their other popular recordings include "Crimson and Clover", "I Hate Myself for Loving You", "Do You Wanna Touch Me", "Light of Day", "Love Is All Around" and "Bad Reputation".
Jett has a mezzo-soprano vocal range. She has three albums that have been certified Platinum or Gold, and has been a feministicon throughout her career.She is considered by the Toronto Sun as the Queen of Rock 'n Roll. She is also know as theGodmother of Punk.[8] In 2015, she was inducted into the Rock and Roll Hall of Fame.
From Wikipedia.org