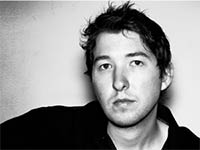 Ryan Beaver
Ryan Beaver is an American country music singer-songwriter from Emory, Texas. Born on March 17, 1984 and growing up in East Texas,Beaver moved South and began his musical career while he was attending Texas State University in San Marcos, Texas.
He currently lives in Nashville, Tennessee. Beaver's first album, Under the Neons, was released on February 27, 2008 with producing credits to David Grissom (who has worked with John Mellencamp, Dixie Chicks, and Ringo Starr). The album spawned 3 singles for Texas radio: "I Shoulda Kissed You", "Under the Neons", and "Streets of Austin".
Chris Janson (born c. 1986) is an American country music singer and musician. He has written singles for Justin Moore and Tim McGraw among others, and has released two albums: one for Bigger Picture Music Group and one for Columbia Records. Janson has also charted four times on Hot Country Songs and/or Country Airplay, including the Top 10 "Buy Me a Boat" in mid-2015. In June 2009, Janson co-wrote and recorded two duets with Holly Williams on her album Here with Me: "I Hold On" and "A Love I Think Will Last". Janson signed to BNA Records in October 2009 and released his debut single, "'Til a Woman Comes Along," in April 2010. Matt Bjorke of Roughstock gave the single a five-star rating, with his review praising Janson's vocals as well as the arrangement. The song debuted at No. 56 on the Billboard Hot Country Songs charts dated for the week ending May 1, 2010.
From Wikipedia.org