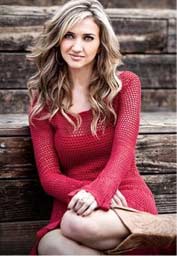 Sara Darling
Sarah Ann Darling (born October 4, 1982 in Des Moines, Iowa) is an American country music singer and songwriter.
In 2003, Darling made her name first known to the public when she was a top-three finalist on E! Entertainment Television's reality show The Entertainer, hosted by Wayne Newton. She missed out on winning the show as Newton believed she was not right for Las Vegas and he advised her to head to Nashville to focus on country music.
Sarah Darling went into the studio in the summer of 2008 to record her debut album, Every Monday Morning, which was released on June 16, 2009. Her single "Jack of Hearts" successfully made its debut on Country Music Television's top 20 countdown. A second album, Angels & Devils, was released on February 15, 2011, following its lead single "Something to Do With Your Hands" and a digital single release of the U2 cover "With or Without You". To promote the single, Black River Music Group arranged for Darling to sing the national anthem for a Buffalo Sabres game in place of usual singer Doug Allen; the Sabres and Black River are both owned by Terrence Pegula.
From Wikipedia.org